How does Buy Now work?
If a seller offers the Buy Now

option on their item you can buy the item for the stated price and instantly pay for it with your credit card within the Shpock app. Shpock will hold the payments safely until the item has arrived and you confirmed that everything is okay.
Once the payment has been made the seller will be informed that they can ship the item to the address provided during the checkout. Should your item not arrive or not be in the condition it was advertised in, you can open a dispute from within the sales chat: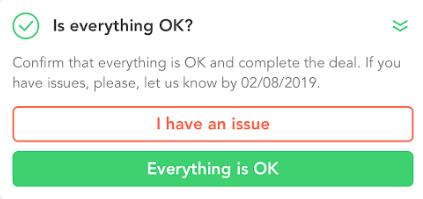 This will also automatically activate the Shpock Buyer Protection, which covers you in the following cases:
Shpock will then carefully review the case and provide you with a full refund if the seller is unable to resolve the problem.

To ensure that your purchase will be covered please also check our list of excluded items. The Shpock Buyer Protection is currently only available in the UK and can only be used on valid purchases up to £1,000.