Size restrictions
IMPORTANT: Shipping with Parcel2Go is currently only available in the app

In order to provide buyers with accurate delivery rates please enter your parcel's weight during the listing process. Furthermore, please ensure that the dimensions and weight of your parcel are within the limits of the courier service(s) you would like to offer.
With Parcel2Go the following restrictions apply:
Hermes:
Dimension: Length (max. 1.2m) + Girth up to a total maximum of 2.45m
Max. weight: 15kg
collect+:

Dimension: Maximum size 65 x 50 x 50cm
Max. weight: 10kg
Parcelforce:
Dimension: Length (max. 1.35m) + Girth up to a total maximum of 2.8m
Max. weight: 25kg
Length is the measurement of the longest side of a parcel while girth is calculated by doubling the combined measurements of width and height. Therefore the maximum dimensions for Hermes and Parcelforce can be calculated using the following example:

If the box below is 40cm wide, 30cm high and 100cm long: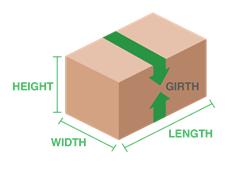 Width + Height = 70
Width + Height x2 = 140
Length = 100
Girth is 140 + 100 = 240 (2.4m)

Important:
Don't forget to include the weight of any packaging material (box, filler) into your calculation!