Size restrictions
Posting with Parcel2Go is currently not available on our website. Please download our app to use it.
With Parcel2Go the following restrictions apply:
Dimension:

Maximum length: 135cm
Maximum height: 70cm
Maximum width: 70cm
Maximum length + girth: 270cm

Max. weight: 30kg
Length is the measurement of the longest side of a parcel while girth is calculated by doubling the combined measurements of width and height. Therefore the maximum dimensions can be calculated using the following example:

If the box below is 40cm wide, 30cm high and 100cm long: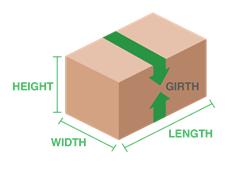 Width + Height = 70cm
Girth = Width + Height x2 = 140cm
Length = 100cm
Length + girth = 140cm + 100cm = 240cm

Important: Don't forget to include the weight of any packaging material (box, filler) into your calculation!