Selling with Buy Now
As a seller, providing the Buy Now

feature on your listings provides you with secure, verified payments. When activating the Buy Now feature on a listing you can set a fixed price and postage cost, at which users can instantly buy your item: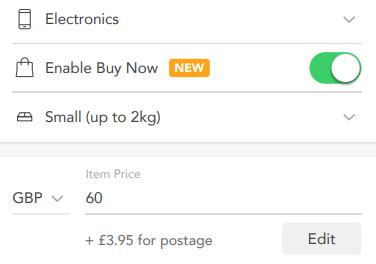 After the purchase Shpock will hold your payment securely until the item has been delivered to the buyer. Once the buyer has confirmed that the item has arrived safely the money will be paid out to your wallet, from where you can transfer it to your bank account.

Please adhere to the following rules to ensure a smooth transaction for both sides:
Shipping with tracking ID: All items must be shipped with a tracking ID. Failing to provide a tracking ID might result in the money being returned to the buyer if the item does not arrive.
Provide realistic delivery times: Let your buyers know how long it will approximately take for the item to arrive.
Clear description: Ensure that the item is described properly and that all defects or missing parts are mentioned and shown in the photos.
Sharp photos: Take sharp photos from different angles and ensure that all defects or missing parts are clearly visible. Make use of the possibility to upload up to 10 photos per listing (the first 5 are free).
Safe packaging: Package the item well to keep it safe even through the bumpiest of deliveries. In case of fragile items you can never go wrong with an extra layer of bubble wrap. Your buyer will thank you for it.
Tip: Especially when sending fragile and/or expensive items we recommend to document the packaging and posting process with photos or videos. This will help us to in case a dispute is raised due to the item arriving damaged or with missing parts.